CULTURAL COUNCIL OF PALM BEACH COUNTY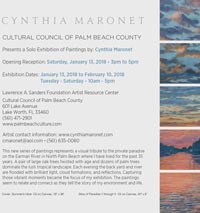 DOWNLOAD OFFICIAL
EVENT BROCHURE
Presents a Solo Exhibition of Paintings by: Cynthia Maronet
Opening Reception: Saturday, January 13, 2018 • 3pm to 5pm
Exhibition Dates: January 13, 2018 to February 10, 2018
Tuesday – Saturday • 10am – 5pm
Lawrence A. Sanders Foundation Artist Resource Center
Cultural Council of Palm Beach County
601 Lake Avenue
Lake Worth, FL 33460
(561) 471-2901
www.palmbeachculture.com
Artist contact information: www.cynthiamaronet.com
cmaronet@aol.com • (561) 635-0080
This new series of paintings represents a visual tribute to the private paradise
on the Earman River in North Palm Beach where I have lived for the past 35
years. A pair of large oak trees twisted with age and dozens of palm trees
dominate the lush tropical landscape. Each evening the back yard and river
are flooded with brilliant light, cloud formations, and reflections. Capturing
those vibrant moments became the focus of my exhibition. The paintings
seem to relate and connect as they tell the story of my environment and life.