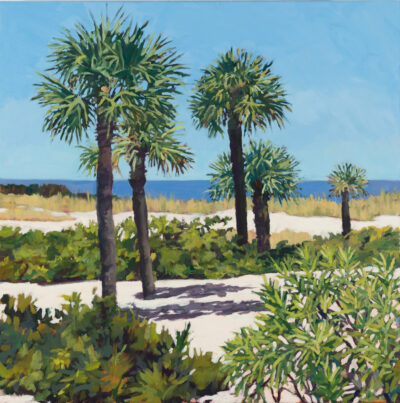 Cynthia Maronet
Coming Full Circle | Friends of the Highland Beach Library
Let's toast the layers of Cynthia's artistic journey being shown in COMING FULL CIRCLE: large canvases of photorealistic orchids, vivid tropical landscapes of lush foliage and cloud filled skies often reflected in water, and a series of nine new painting completed in the last six months complimented by several wacky collages of recycle materials.
Highland Beach Library Community Room
3618 S. Ocean Boulevard,
Highland Beach, FL 33487

COMING FULL CIRCLE
A Solo Exhibition of Paintings,
Drawings and Collaged Recycled
Materials by Cynthia Maronet
Walk the Exhibition with Cynthia Maronet
Tuesday, November 15th from 10am – 2 pm
Wednesday, November 16th from 12 – 3 pm
Friday, December 2nd from 11 am to 1 pm
Monday, December 12th from 5 – 7 pm
Wednesday, December 14th from 10 am to 2pm
Exhibition Dates: October 7 to December 22, 2022
Monday – Friday 10 a.m. – 5 p.m.
Opening Reception: Thursday, October 7, 2022
5 p.m. – 7 p.m.
Exhibition link: https://highlandbeach.us/departments/library/